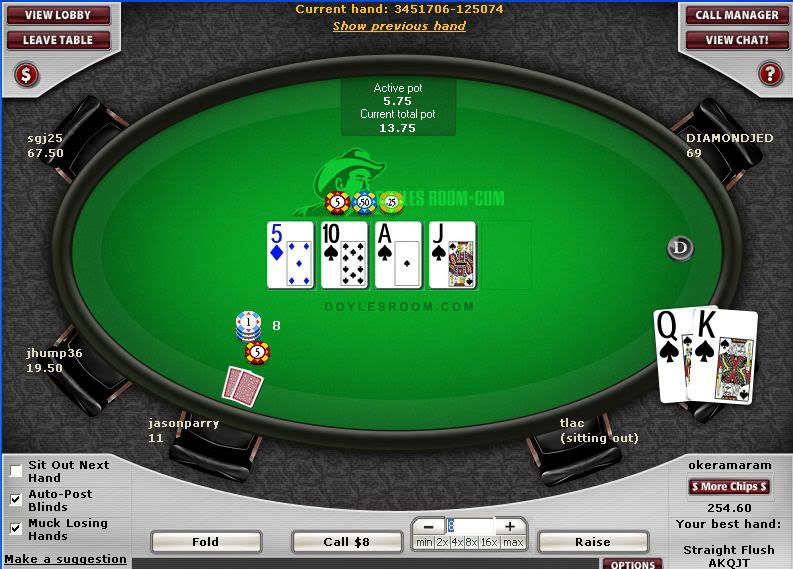 That's my second royal, bitches! And the guy is betting into me. Unfortunately, he must've been on a steal, because I didn't get his last $11. Shit.
Last night(now a few nights ago. This post is a weekend in the making) I decided to take my ancient laptop apart because I was bored, and my roommates still use my television. I thought that I was smart enough to get it back together, because it's not like I was doing any major surgery on the damn thing. I just wanted to see what I can piece for when I do actually buy my new laptop. Whoops, that was a gross overestimate of my computer putting-back-together skills. It's broken, and after 3 days without it, I think I may be, too.
But now, I think that my excitement about a new toy was the straw that broke my bankroll's back. Calling it a "slide" wouldn't do it justice. Plummet is more like it. I am running bad, Mang. I feel like I just took a few steps too many off of Half Dome and left my parachute in my other pants.
Since Friday, I have been run down in as many ways as a guy with a false sense of accomplishment can. Most of this bankroll hit took place on Doyle's, which had been so very good to me over the past few months. But, apparently Doyle and Lee Jones are in cahoots and made the decision to tag team me. And here I always thought my first threesome would be--oh, I don't know--a little sexier.
Within two hands on seperate Stars SNG's just a minute ago., I had my aces cracked by retards that called my raise and then caught monsters. How dare they, damn it?
Hold on, I need to vent. Here are few things that have I just can't get enough of. Seriously, more of all of the following, please. They warm my cockles, whatever the fuck a cockle is, I have no clue.
1-Min re-raises of a min raise.
2-Men wearing pink. You're not tough; you're the color of a vagina.
3-Slow playing aces so slow that you only call bets on the flop, turn and river, never once raising. That's not being tricky, that's just being a pansy
4-An opponent hitting the hand their chasing--like a shitty flush--and then checking it down. P-u-s-s...why? No clue!
5-There is no (number sign) five
6-Oversized sunglasses. Nice goggles, BugFace.
7-Not relieving the table maniac of the burden that is his money, because he seems to be
dying
to give it to everybody else. So frustrating.
Ok, that's enough for now. I'm going log off and try to find innovative new ways to still get paid to work, but not actually have to go into work. Wish me luck. I may need to drink tonight, you know, because summer is officially over as of today.
White boy, out.